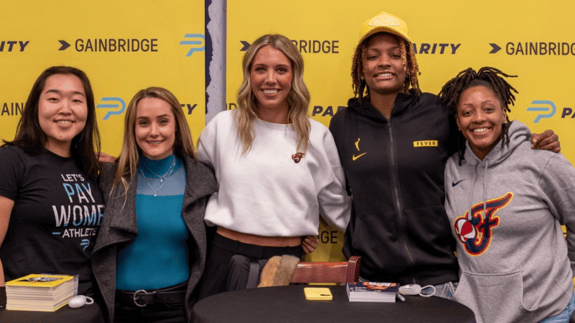 Find the perfect speaker for your next event
Deliver an unforgettable experience to your audience by showcasing powerful, emotional athlete stories.
Connect with Parity Athlete Speakers
At Parity, we recognize that no two events are alike. We are dedicated to fully understanding the individual nature of your internal or external event. Together, we can identify the ideal speaker who aligns perfectly with your vision and goals, ensuring your next event is truly exceptional.
Kara Winger
Track & Field - Javelin
Over two decades of throwing the javelin left Kara Winger with no regrets: She recorded 9 U.S. Championship titles, 4 Olympic appearances, medaled twice at the Pan-American Games, and made 6 World Championships teams. The 2022 season, her final one, was unprecedented for Kara and American javelin throwers: She clinched the United States' first ever World Championships medal for an American women in her event ( silver), broke the American Record with her first personal best in 12 years, and finished the year as Diamond League Champion and World #1 on distance and rankings. Perseverance through injury and seasons of struggle with the aid of excellent coaches, medical professionals, and teammates showed Kara that there's value in every well-fought journey.
"Kara was a HUGE hit! She brought the entire audience to tears and they cheered when she broke the American record in September. Her presentation was perfect for this conference! Such an honor to work with such a lovely, humbling person!! I cannot say enough wonderful things about her and cannot wait to work with her again!! I am humbled beyond belief! Thank you, Kara and thank you to Parity!
Julie Paquette
Relationship Manager
Delaware Life Marketing, LLC
Lauren Gibbs
Bobsled
Meet Lauren Gibbs, a true believer in embracing life with a resounding "yes." Her journey took a transformative turn when she accepted a friend's challenge to try bobsled at the Olympic and Paralympic Training Center (OPTC). Fear and exhilaration enveloped her during the bobsledding experience, awakening a missing piece in her life. In a leap of faith, Lauren left her full-time job to train year-round for a spot on Team USA, an opportunity she never thought possible.
Her perseverance paid off, and in 2018, she proudly became an Olympic silver medalist. Beyond sports, Lauren is devoted to supporting and empowering women, using her vulnerability to inspire other female athletes to believe in themselves and pursue their dreams. Whether she's in the bobsled cockpit, working with companies to close the gender pay gap, or engaging audiences through speaking engagements, Lauren's purpose remains clear - to uplift and encourage others by sharing her journey of growth and self-discovery.
Katie Moon
Track & Field - Pole Vault
Meet Katie Moon, a remarkable athlete hailing from Cleveland, Ohio, whose pole vault prowess set a state record during her high school days. Her journey of excellence continued at Ashland University, where she claimed two NCAA Division II championships and was a three-time All-American. In 2018, she had a breakout season, seizing gold at the USA Indoor Championship with three consecutive personal best jumps.
This momentum carried her to victory at the 2021 US Olympic Trials, where she earned a momentous gold medal in Pole Vault during her Olympic debut in Tokyo. Katie's success story persisted, with a gold at the 2022 World Championships and a silver at the 2022 World Indoor Championships. Notably, she also secured victory at the 2023 USATF Outdoor Championships, cementing her status as a dominant force in her discipline. Next up, she sets her sights on a new goal - qualifying for the 2024 Olympic Games in Paris. With her remarkable talent and determination, Katie continues to make waves in the world of pole vaulting and is poised for even greater achievements on the global stage.
"Huge thank you to everyone involved in the TruWomen event and, particularly, yesterday's session with Katie. Katie was amazing and the standing ovation she received was an understatement for how great that conversation was. Humbled and proud to be a part of it. Thank you!"
Dan Buermann
VP, Relationship Management
Delaware Life Marketing, LLC
Essence Carson
Basketball
Essence Carson is an extraordinary athlete with a multifaceted passion for both basketball and music. Previously, Essence served as the Senior Manager of Label Relations at Motown Records, playing a pivotal role in the music industry. Currently, she continues her impressive journey as the Director of Label Operations and Distribution at Guin.
Alongside her career in music, she finds joy in writing poetry, public speaking, and sharing her musical talents, including playing the piano, bass guitar, drums, and saxophone. Her journey of excellence extends to her WNBA career, where she spent 13 seasons, achieving numerous accolades and winning a WNBA title with the Los Angeles Sparks in 2016. Notably, she also represented Team USA during her collegiate career where she was starring on the court for C. Vivian Stringer and Rutgers University. With her legacy further commemorated through dedications in her honor at both her elementary school gymnasium and hometown basketball court, she stands as an inspiration to all. Inducted into the Rutgers Athletics Hall of Fame in 2020, she leaves an indelible mark on the world of basketball and music, serving as a shining example of dedication and achievement.
Featured Topics
Athlete Advocacy / Driving social change
Allyship
Balancing Success in Sport and life
Breaking Barriers
Body Positivity
Building inclusive Teams
Confidence
Diversity, Equity & Inclusion
Empowerment
Entrepreneurship
Financial Literacy
Gender Equality
Health & Wellness
Inspiring the next generation
Maintaining a Championship Mindset
Mental Health
Mentorship
Overcoming Adversity
Parenting
Representation
Redefining Success
Resiliency
STEM
Sustainability
Transformation
Unleashing Potential
Appearances
Ignite excitement at your events with pro women athletes
With the elite women athletes of the Parity community, the possibilities for athlete appearances and event engagements are boundless. Whether in-person or virtual, our athletes bring an unparalleled level of professionalism, passion and expertise to every occasion. From corporate events to community initiatives, their diverse backgrounds make them relatable and engaging for a wide range of audiences.
Elizabeth Montavon, 9X National Champion, Waterski attends Firestone Grand Prix of St. Petersburg with Gainbridge
Aja Evans (emcee), Monifa Sealy (golf pro) and Natalie Sheary (golf pro) attend Indy Women in Tech's annual golf outing
August Kim, Sabré Cook, Lexie Hull attend a Pacers game at Gainbridge Field House
Chantae McMillan, Madison Kopp, Kara Winger, Elizabeth Montavon, Lindsey McKone and Jennifer King attend the Cal Ripken Jr. Foundation gala featuring Billie Jean King.
Allysa Seely attended the Indy Women in Tech's Ignite Your Superpower event where she presented to middle schoolers about the power of innovation and stem in women's sports.
Let Parity elevate your event.
Transform any event with the impactful presence of Parity athletes.